020-000-117 Hyafactor Polyglutamic Acid Sodium Polyglutamate
020-000-117 Hyafactor Polyglutamic Acid Sodium Polyglutamate
Stanford Chemicals offers Hyafactor Polyglutamic Acid Sodium Polyglutamate.
Description
Description
Description of Polyglutamic Acid
Polyglutamic Acid (PGA) which exists frequently in nature in the form of sodium polyglutamate, is usually a sticky anionic amino acids polymer. Initially, it was found in a traditional food 'natto', which is also called γ-Polyglutamic acid (γ-PGA). The polymer is an isomorphism type of polypeptide biopolymers with glutamic acid as a structural unit and connected by amide bond.
Since each of the structural units of glutamic acid contains a plurality of hydrophilic groups, a large number of hydrogen bonds can be formed inside or between the polymer chains, so PGA can effectively capture and retain moisture, enhance skin elasticity, and be regarded as a good natural moisturizing ingredient widely used in personal care products. Our Hyafactor-PGA is produced by fermentation with a superior strain of Bacillus subtilis. Its INCI name is Sodium Polyglutamate.
Efficacy of Polyglutamic Acid Powder
Promote the Accumulation of NMFs
High-Quality Moisturizing
Reduce the Degradation of HA
Improve Elasticity and Softness of the skin
Inhibition of Melanin production
Scavenging Free Radicals
Application of Polyglutamic Acid (PGA)
* Emulsion, Mask, Concentrate, Essence, Cream, Cleanser;
* Hair care products, etc.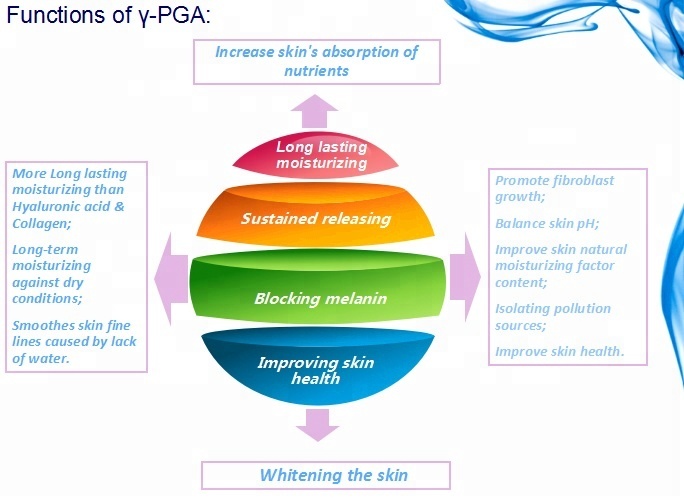 Specification of Polyglutamic Acid (PGA)
| | |
| --- | --- |
| Characters | White or off-white powder or grannies |
| Infrared absorption | In accordance with standard |
| Assay | ≥90% |
| Intrinsic viscosity,[ᶇ]/(dl/g) | ≤0.1(SLM) 0.1~1.0 (LM) 1.0~5.0 (HM) |
| pH (1% solution) | 5.0~7.5 |
| Loss on drying | ≤ 10.0% |
| Heavy metals | ≤ 20 ppm |
| Absorbance(4%, 400nm) | ≤ 0.12 |
| Bacteria counts | ≤ 100 cfu/g |
| Mold & Yeast | ≤ 100 cfu/g |
| Staphylococcus aureus | Negative |
| Fecal coliforms | Negative |
| Pseudomonas aeruginosa | Negative |
Submit your review

Submit

Cancel
Hyafactor Polyglutamic Acid Sodium Polyglutamate
Average rating:
1 reviews
Mar 25, 2019
by
Tatiana
on
Hyafactor Polyglutamic Acid Sodium Polyglutamate
It is a wonderful HA. I love it so much.