Triptolide, sometimes called Thunder God Vine, is a vine used in traditional Chinese medicine for treatment of fever, chills, edema and carbuncle. Tripterygium wilfordii recently has been investigated as a treatment for a variety of disorders including rheumatoid arthritis, chronic hepatitis, chronic nephritis, ankylosing spondylitis, polycystic kidney disease as well as several skin disorders. It is also under investigation for its apparent antifertility effects, which it is speculated, may provide a basis for a Male oral contraceptive.
Description
Description
Introduction of Triptolide
Triptolide, sometimes called Thunder God Vine, is extracted from Tripterygium wilfordii.
Stanford Chemicals has been providing quality Triptolide and many other natural plant extracts for over 15 years.
| | |
| --- | --- |
| Product Name | Triptolide |
| CAS No. | 38748-32-2 |
| Molecular Formula | C20H24O6 |
| Molecular Weight | 360.44 |
| Botanical Source | Tripterygium wilfordii |
| Purity | 98% HPLC |
| Appearance | White powder |
| Package | 25 kg/drum |
| Storage | Stored in cool & dry places, protected from direct sunlight and heat. |
| Shelf Life | 2 years |
Applications of Triptolide
It has the function of promoting skin metabolism and has a good effect on skin ulcers and other skin diseases
It has the function of analgesia and stability and effect on the central nervous system of choline
With the function of clearing away heat and detoxifying, clearing dampness, subsidence of swelling, and diuretic
With the function of antibacterial and dissolving stones
It has the function of strengthening blood vessels and promoting blood circulation
Triptolide Safety Tips
Handling of Triptolide should only be performed by personnel trained and familiar with the handling of potent active pharmaceutical ingredients. Avoid severe irritants to the skin and eyes.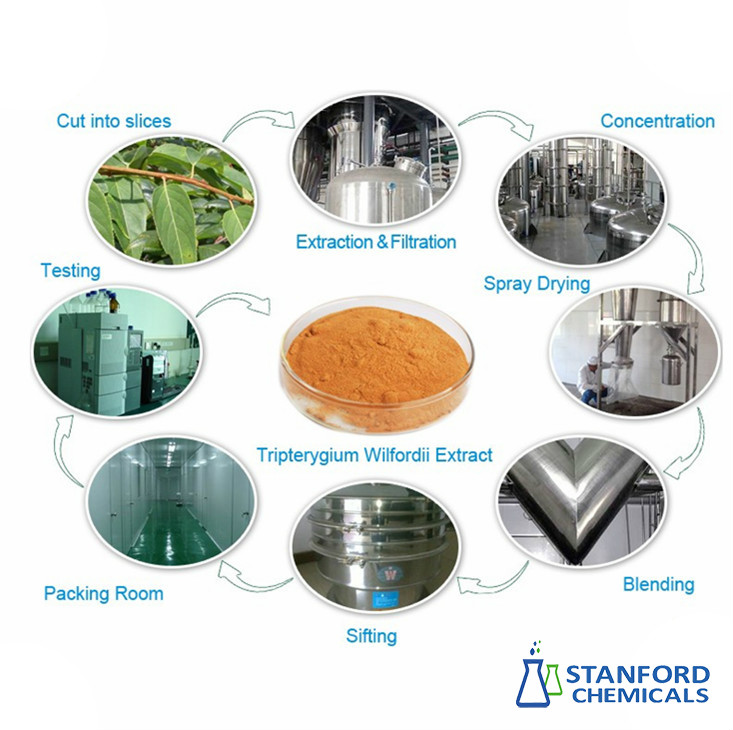 Related Articles on Triptolide
Submit your review

Submit

Cancel
triptolide powder
Average rating:
1 reviews
May 28, 2019
by
MagMell
on
triptolide powder
This herb has helped put my Lupus into remission