Description
Description
Centella Asiatica Extract Specifications
| | |
| --- | --- |
| Product Name | Centella Asiatica Extract (mainly asiaticoside) |
| Molecular Formula | C48H78O19 |
| Molecular Weight | 959.1 g/mol |
| Purity | 70 % asiaticoside |
| Appearance | White powder |
| Package | 1kg-25kg |
| Shelf life | 2 years |
| Functions | promote skin collagen production, improve skin elasticity, delay skin aging; repair after sun exposure after ultraviolet radiation |
Centella Asiatica Extract Description
Centella Asiatica Extract contains a variety of triterpene components, the main active ingredients of which are Asiatic Acid and Asiaticoside, which belong to triterpenoid saponin compounds, all derived from Centella asiatica. Centella Asiatica Extract can be used in various cosmetics and shampoos.
Centella asiatica extract is a rich source of natural bioactive substances, triterpenoid saponins, flavonoids, phenolic acids, triterpenic steroids, amino acids, and sugars.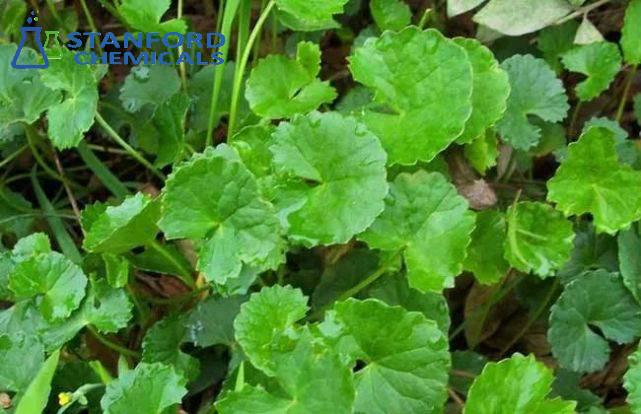 Centella Asiatica Extract Applications
Used in cosmetics and shampoos.
Reference:
A. Aziz, M.R. Davey, J.B. Power, P. Anthony, R.M. Smith, K.C. Lowe Production of asiaticoside and madecassoside in Centella asiatica in vitro and in vivo Biologia Plantarum, 51 (2007), pp. 34-42
Brinkhaus, M. Lindner, D. Schuppan, E.G. Hahn Chemical, pharmacological and clinical profile of the East Asian medical plant Centella asiatica. Phytomedicine, 7 (2000), pp. 427-448
-J. Liu, Z.-X. Liu, W.-Z. Ju, Z.-Y. Chen, N.-N. Xiang, H.-S. Tan.Determination of asiaticoside in rat plasma by LC–MS–MS and its application to pharmacokinetics studies. Chromatographia, 72 (2010), pp. 821-825