040-000-286 Remdesivir, CAS 1809249-37-3
040-000-286 Remdesivir, CAS 1809249-37-3
Description
Description
Remdesivir Specifications
| | |
| --- | --- |
| Product Name | Remdesivir |
| CAS Registry Number | 1809249-37-3 |
| Molecular Formula | C27H35N6O8P |
| Molecular Weight | 602.585 g·mol−1 |
| Purity | >99.9 % |
| Package | 1kg-25kg; 1 g, 20g |
| Solubility | DMSO : ≥ 125 mg/mL (207.44 mM) |
| Shelf life | 2 years |
| Functions | Treatment of COVID-19 infection |
Remdesivir Description
Remdesivir (development code GS-5734) is a novel antiviral drug in the class of nucleotide analogs. It is a nucleoside analogue, with effective antiviral activity, with EC50s of 74 nM for SARS-CoV and MERS-CoV in HAE cells, and 30 nM for murine hepatitis virus in delayed brain tumor cells. Remdesivir is highly effective in the control of 2019-nCoV (COVID-19) infection in vitro.
Remdesivir is a nucleotide prodrug of an adenosine analog. It binds to the viral RNA-dependent RNA polymerase and inhibits viral replication by terminating RNA transcription prematurely.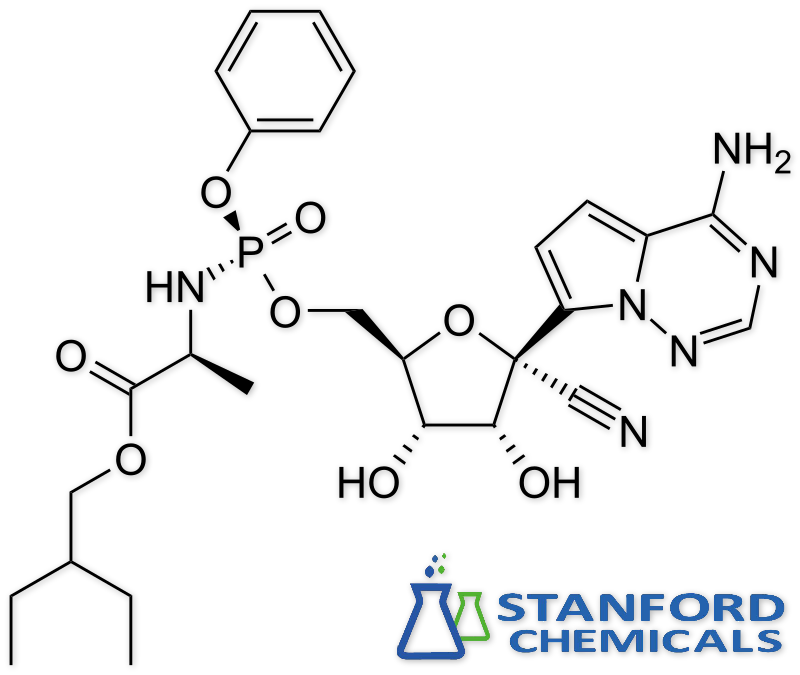 Remdesivir Applications
Remdesivir is a potent antiviral agent. Remdesivir inhibits murine hepatitis virus (MHV) with an EC50 of 30 nM, and blocks SARS-CoV and MERS-CoV in HAE cells with EC50s of both 74 nM in HAE cells after treatment for 24 h.
Reference:
Agostini ML, et al. Coronavirus Susceptibility to the Antiviral Remdesivir (GS-5734) Is Mediated by the Viral Polymerase and the Proofreading Exoribonuclease. MBio. 2018 Mar 6;9(2). pii: e00221-18.
Wang M, et al. Remdesivir and chloroquine effectively inhibit the recently emerged novel coronavirus (2019-nCoV) in vitro. Cell Res. 2020 Mar;30(3):269-271.