Description
Description
Acarbose Specifications
| | |
| --- | --- |
| Product Name | Acarbose |
| CAS Registry Number | 56180-94-0 |
| Molecular Formula | C25H43NO18 |
| Molecular Weight | 645.60 g/mol |
| Purity | 99 % |
| Appearance | White powder |
| Package | 1kg-25kg |
| Shelf life | 2 years |
| Functions | Anti-aging, anti-diabetes |
Acarbose Description
Acarbose is a new oral hypoglycemic agent. Competitively inhibit glucoside hydrolase in the intestine. It reduces the decomposition of polysaccharides and sucrose into glucose, which slows the absorption of sugar accordingly, so it can have the effect of lowering blood glucose after a meal. It is generally used alone or in combination with other oral hypoglycemic drugs or insulin. Cooperate with food and drink to treat insulin-dependent or non-dependent diabetes.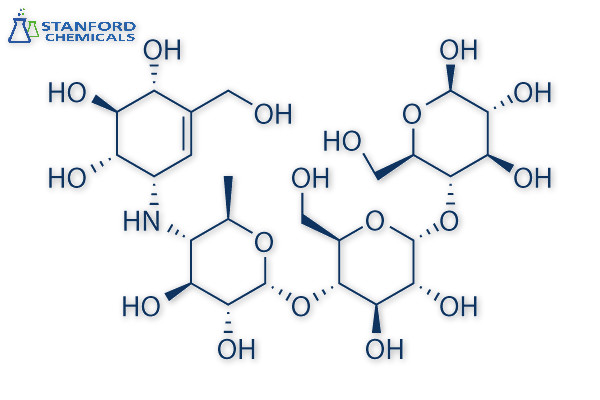 Acarbose Applications
Used as a pharmaceutical ingredient in hypoglycemic drugs
Laboratory research
Reference:
Am J Health Syst Pharm. 1996 Oct 1;53(19):2277-90.
Eur J Clin Invest. 1994 Aug;24 Suppl 3:40-4.
Ann Pharmacother. 1996 Nov;30(11):1255-62.
Mahmud T, Lee S, Floss HG.Chem Rec. 2001;1(4):300-10.