| | |
| --- | --- |
| Synonyms | d-Evodiamine; Isoevodiamine |
| Source | Evodiae feuctu |
| Keywords | Anti-cancer, traditional Chinese medicine, fat uptake |
| Related products | Kojic Acid, Ellagic Acid, Rapamycin |
Description
Description
Evodiamine Specifications
| | |
| --- | --- |
| Product Name | Evodiamine |
| CAS Registry Number | 518-17-2 |
| Molecular Formula | C19H17N3O |
| Molecular Weight | 303.36 g/mol |
| Purity | 99 % |
| Appearance | Pale yellow powder |
| Package | 1kg-25kg |
| Shelf life | 2 years |
| Functions | Inhibit the proliferation of a variety of tumor cells, including cervical cancer, colon cancer, lung cancer, melanoma, T lymphocytic leukemia, prostate cancer, and breast cancer |
Evodiamine Description
Evodiamine is a yellow flaky crystal with a melting point of 278°C. It is soluble in acetone, slightly soluble in ethanol, ether, chloroform, and almost insoluble in water, petroleum ether, and benzene. It is weakly alkaline and does not easily form the salt. Evodiamine has been biosynthesized. Evodiamine has pharmacological effects such as analgesia, lowering blood pressure and increased body temperature, and can be used as a diuretic and sweating agent.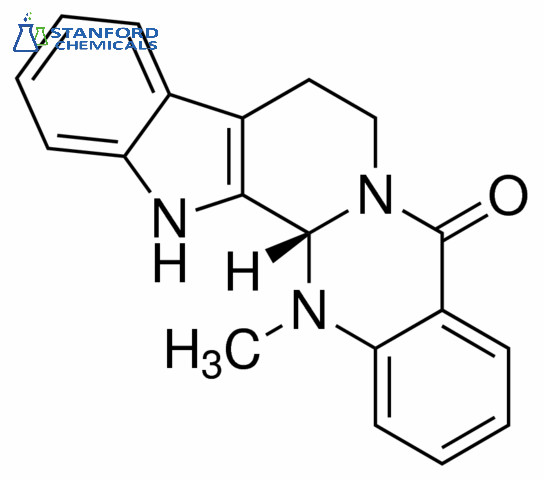 Evodiamine Applications:
Reference:
Hu Y, Ehli EA, Hudziak JJ, Davies GE (October 2012). "Berberine and evodiamine influence serotonin transporter (5-HTT) expression via the 5-HTT-linked polymorphic region". The Pharmacogenomics Journal. 12 (5): 372–8.