070-000-345 Kojic Acid, CAS 501-30-4
070-000-345 Kojic Acid, CAS 501-30-4
Description
Description
Kojic Acid Specifications
| | |
| --- | --- |
| Product Name | Kojic Acid |
| CAS Registry Number | 501-30-4 |
| Molecular Formula | C6H6O4 |
| Molecular Weight | 142.11 g/mol |
| Purity | 99 % |
| Appearance | White powder |
| Package | 1kg-25kg |
| Shelf life | 2 years |
| Functions | Whitening, spot solution, inhibition of tyrosinase activity |
Kojic Acid Description
Since it was discovered, kojic acid was first used in food, medicine, agriculture, and other fields. In the food field, it can be used as a food additive, which plays a role in preservation, antiseptic, and anti-oxidation. Later, some research institutions found that "Kojic acid" has a good whitening effect and can lighten the stains. After this application was discovered, "Kojic acid" began to be used as a skin whitening agent and was widely used in whitening and lightening products.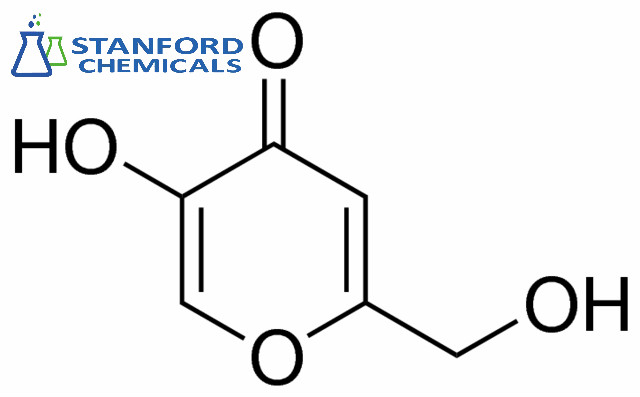 Kojic Acid Application
As an ingredient in whitening personal care products
Reference:
Lee, Y.S., Park, J.H., Kim, M.H., et al. Synthesis of tyrosinase inhibitory kojic acid derivative. Arch. Pharm. (Weinheim) 339(3), 111-114 (2006).
Rodrigues, A.P., Farias, L.H., Carvalho, A.S., et al. A novel function for kojic acid, a secondary metabolite from Aspergillus fungi, as antileishmanial agent. PLoS One 9(3), e91259 (2014).
Wang, K., Liu, C., Di, C.-J., et al. Kojic acid protects C57BL/6 mice from gamma-irradiation induced damage. Asian Pac. J. Cancer Prev. 15(1), 291-297 (2014).