040-000-317 Hydrocortisone Acetate, CAS 50-03-3
040-000-317 Hydrocortisone Acetate, CAS 50-03-3
Description
Description
Hydrocortisone Acetate Specifications
| | |
| --- | --- |
| Product Name | Hydrocortisone Acetate |
| CAS Registry Number | 50-03-3 |
| Molecular Formula | C23H32O6 |
| Molecular Weight | 404.5 g/mol |
| Purity | ≥98% |
| Package | 1kg-25kg |
| Shelf life | 2 years |
| Functions | Anti-inflammatory, anti-allergic and immune suppression |
Hydrocortisone Acetate Description
Hydrocortisone acetate is a synthetic corticosteroid. It is an adrenal corticosteroid drug with various pharmacological effects such as anti-inflammatory, anti-allergic, and immune suppression.
Hydrocortisone acetate is used to treat a variety of skin conditions (such as eczema, dermatitis, allergies, and rash). Hydrocortisone acetate reduces the swelling, itching, and redness that can occur in these types of conditions. This medication is a mild corticosteroid.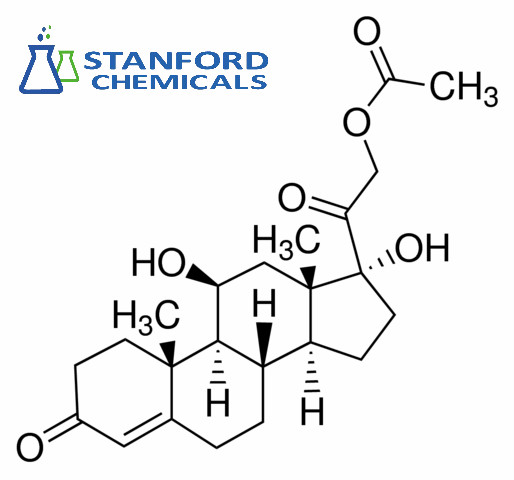 Hydrocortisone Acetate Applications
Hydrocortisone acetate is used to make hydrocortisone acetate cream. The indications are for allergic, non-infectious skin diseases and some proliferative skin diseases, such as dermatitis, eczema, neurodermatitis, seborrheic dermatitis, and pruritus.
Reference:
Bilgihan, K., Ozdek, S., Ozoğul, C., et al. Topical vitamin E and hydrocortisone acetate treatment after photorefractive keratectomy. Eye (Lond) 14(Pt 2), 231-237 (2000).
Sedgwick, A.D., Sin, Y.M., Moore, A.R., et al. Effects of local administration of hydrocortisone on cartilage degradation in vivo. Ann. Rheum. Dis. 43(3), 418-420 (1984).