040-000-320 Minoxidil Sulfate, CAS 83701-22-8
040-000-320 Minoxidil Sulfate, CAS 83701-22-8
| | |
| --- | --- |
| Synonyms | 6-(1-Piperidinyl)-2,4-pyrimidinediamine-3-oxide Sulfate |
| Keywords | Metabolites, vasodilator |
| Related products | Timclol Maleate |
Description
Description
Minoxidil Sulfate Specifications
| | |
| --- | --- |
| Product Name | Minoxidil Sulfate |
| CAS Registry Number | 83701-22-8 |
| Molecular Formula | C9H15N5O4S |
| Molecular Weight | 289.3 g/mol |
| Purity | ≥95% |
| Package | 1kg-25kg |
| Storage | Light Sensitive – Protect from Light |
| Shelf life | 2 years |
| Functions | Accelerate animal and human hair growth, prevent hair loss, and lower blood pressure |
Minoxidil Sulfate Description
Minoxidil sulfate is a K+ channel agonist and a strong vascular smooth muscle relaxant. It has been shown to relax norepinephrine contraction and is reported to be a vasodilator. Minoxidil sulfate has been used to better understand the blood-brain tumor barrier in syngeneic and allogeneic rat studies and has been demonstrated to increase tumor permeability.
Minoxidil sulfate, a potent and ATP-sensitive K+ channel opener, is the sulfated metabolite of minoxidil. Minoxidil sulfate is considered a vasodilator to promote hair growth in vivo.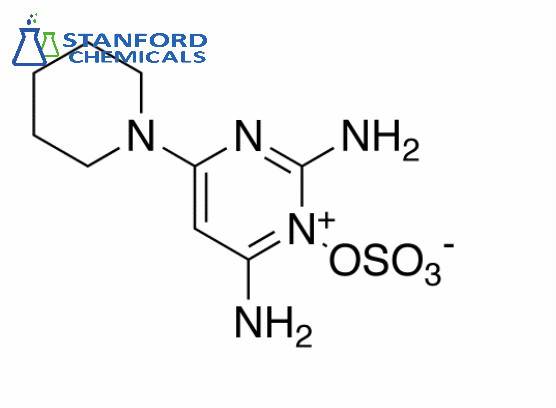 Minoxidil Sulfate Applications
Pharmaceutical ingredients of topical medicine effective for hair loss treatment
Reference:
Buhl, A., et al.: J. Invest. Dermatol., 95, 553 (1990)
Meisheri, K.D., et al. 1988. J. Pharmacol. Exp. Ther. 245: 751-760.
Winquist, R.J., et al. 1989. J. Pharmacol. Exp. Ther. 248: 149-156.
Andersson, K.E., et al.: Pharmacol. Toxicol., 70, 244 (1992)
Quast, U., et al. 1995. Naunyn Schmiedebergs Arch. Pharmacol. 353: 86-93.
Black, K.L., et al. 2008. Brain Res. 1227: 198-206.