040-000-325 Ligustrazine Hydrochloride, CAS 76494-51-4
040-000-325 Ligustrazine Hydrochloride, CAS 76494-51-4
Description
Description
Ligustrazine Hydrochloride Specifications
| | |
| --- | --- |
| Product Name | Ligustrazine Hydrochloride |
| CAS Registry Number | 76494-51-4 |
| Molecular Formula | C8H12N2 |
| Molecular Weight | 136.16 g/mol |
| Appearance | White powder |
| Package | 1kg-25kg |
| Shelf life | 2 years |
| Functions | Used for ischemic stroke, chest pain, swollen pain, headache, hypertension, coronary atherosclerotic heart disease, migraine, ischemic encephalopathy, etc. |
Ligustrazine Hydrochloride Description
Ligustrazine is a compound that has been found in L. wallichii and has diverse biological activities, including antioxidant, anti-inflammatory, neuroprotective, and anticancer properties.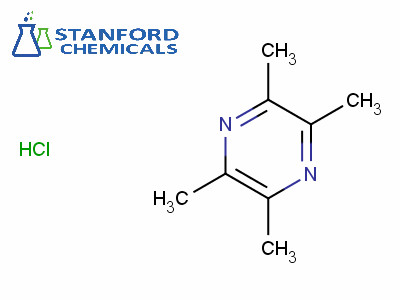 Ligustrazine Hydrochloride Applications
Pharmaceutical ingredients used for contractile stroke, chest pain, swollen pain, headache, hypertension, coronary atherosclerotic heart disease (coronary heart disease), migraine, dilated encephalopathy, etc.
Reference:
Liao, S.-L., Kao, T.-K., Chen, W.-Y., et al. Tetramethylpyrazine reduces ischemic brain injury in rats. Neurosci. Lett. 372(1-2), 40-45 (2004).
Wang, Y., Fu, Q., and Zhao, W. Tetramethylpyrazine inhibits osteosarcoma cell proliferation via downregulation of NF-κB in vitro and in vivo. Mol. Med. Rep. 8(4), 984-988 (2013).