Description
Description
Escin Specifications
Product Name
Escin
CAS Registry Number
11072-93-8 β-Aescin

6805-41-0  Aescin

Molecular Formula
C55H86O24
Molecular Weight
1131.269 g/mol
Purity
99.0%
Appearance
White powder
Package
1kg-25kg
Shelf life
2 years
Functions
Anti-inflammation, anti-vasoconstrictor, and vasoprotective effects
Escin Description
Aescin or escin is derived from horse chestnut extracts. It can promote the synthesis of collagen, repair damaged skin, and can effectively moisturize. It is rich in flavonoids, has natural and powerful anti-aging and anti-wrinkle effects, can improve the blood circulation of some eye skins, and can also eliminate cellulite, and has some effects on dark circles and bags under the eyes.
Escin is an endothelium-protective drug that is extracted from Aesculus hippocastanum seeds.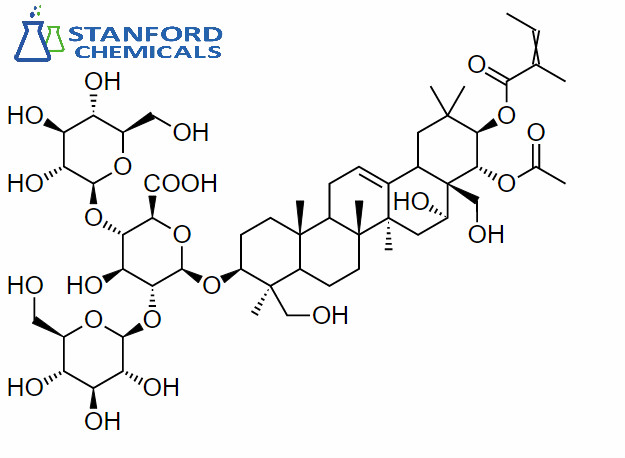 Escin Application
Pharmaceutical ingredients of eye drops and intravenous fluid
Reference:
Pittler, Max H.; Ernst, Edzard (2012-11-14). "Horse chestnut seed extract for chronic venous insufficiency". The Cochrane Database of Systematic Reviews. 11: CD003230.
Carrasco OF, Vidrio H (July 2007). "Endothelium protectant and contractile effects of the antivaricose principle escin in rat aorta". Vascul. Pharmacol. 47 (1): 68–73.
Berti F, Omini C, Longiave D (August 1977). "The mode of action of aescin and the release of prostaglandins". Prostaglandins. 14 (2): 241–249.