Description
Description
Rapamycin Specifications
| | |
| --- | --- |
| Product Name | Rapamycin |
| CAS Registry Number | 53123-88-9 |
| Molecular Formula | C51H79NO13 |
| Molecular Weight | 914.17 g/mol |
| Appearance | White powder |
| Shelf life | 2 years |
| Functions | Induce autophagy, immunosuppressor, anti-aging |
Rapamycin Description
Rapamycin is a macrolide compound used to cover coronary stents, prevent organ transplant rejection and treat a rare lung disease called lymphangioleiomyomatosis. It has an immunosuppressive function in the human body and is particularly useful in preventing kidney transplant rejection. Rapamycin was first evaluated as an antifungal agent but is now studied for its potent immunosuppressive and antiproliferative properties.
Rapamycin is used in clinical settings to prevent rejection in organ transplantation and to treat certain types of cancer.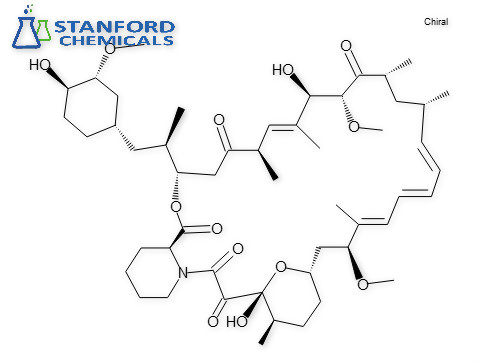 Rapamycin Applications
Laboratory research
Used as pharmaceutical ingredients for anti-rejection therapy for kidney transplantation
Reference:
Kay JE, et al. Inhibition of T and B lymphocyte proliferation by rapamycin. Immunology 72: 544-549 (1991).
Barbet NC, et al. TOR controls translation initiation and early G1 progression in yeast. Mol Biol Cell 7(1): 25-42 (1996).
Guba M, et al. Rapamycin inhibits primary and metastatic tumor growth by antiangiogenesis: involvement of vascular endothelial growth factor. Nat Med 8(2): 128-135 (2002).
Edwards SR, et al. The rapamycin-binding domain of the protein kinase mammalian target of rapamycin is a destabilizing domain. J Biol Chem 282(18): 13395-13401 (2007).