040-000-315 5α-hydroxy Laxogenin, CAS 56786-63-1
040-000-315 5α-hydroxy Laxogenin, CAS 56786-63-1
| | |
| --- | --- |
| Synonyms | (3β,5α,25R)-3,5-dihydroxyspirostan-6-one, Biobras-16 |
| Keywords | Muscle strength, muscle strength, Laxogenin |
| Related products | Vincamine |
Description
Description
5α-hydroxy Laxogenin Specifications
| | |
| --- | --- |
| Product Name | 5α-hydroxy Laxogenin |
| CAS Registry Number | 56786-63-1 |
| Molecular Formula | C27H42O5 |
| Molecular Weight | 446.6 g/mol |
| Purity | >98 % |
| Package | 1kg-25kg |
| Shelf life | 2 years |
| Functions | Build muscle, also stimulate plant growth |
5α-hydroxy Laxogenin Description
5α-hydroxy Laxogenin is a brassinosteroid analog and a derivative of diosgenin. 5α-hydroxy Laxogenin and a similar chemical, called Laxogenin are sold as medicine to help build muscle.
5-Alpha-Hydroxy-Laxogenin is often marketed in dietary supplements as a plant-based anabolic agent.
5α-hydroxy-laxogenin is a synthetic spirostane-type steroid, which is contained in dietary supplements and advertised as anabolic agent.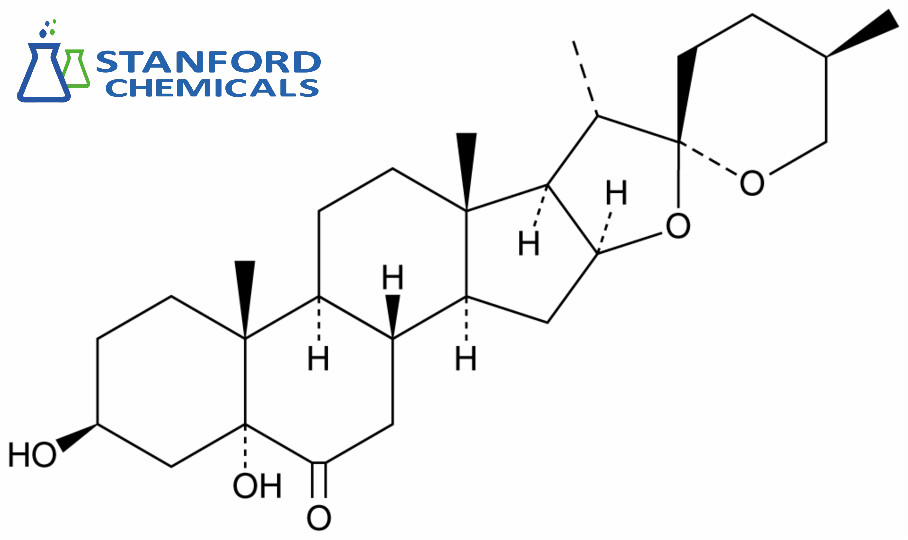 5α-hydroxy Laxogenin Applications
Laboratory research
Pharmaceutical ingredients to increase muscle strength
Reference:
Pérez-Labrada, K., Brouard, I., Estévez, S., et al. New insights into the structure-cytotoxicity relationship of spirostan saponins and related glycosides. Bioorg. Med. Chem. 20(8), 2690-2700 (2012).
Serna, M., Coll, Y., Zapata, P.J., et al. A brassinosteroid analogue prevented the effect of salt stress on ethylene synthesis and polyamines in lettuce plants. Sci. Hortic. (Amsterdam) 185, 105-112 (2015).