| | |
| --- | --- |
| Synonyms | 2-(10-Hydroxydecyl)-5,6-methoxy-3-methyl-2,5-cyclohexadiene-1,4-dione; 2,3-Dimethoxy-6-(10-hydroxydecyl)-5-methyl-1,4-benzoquinone; Avan; CV 2619; Daruma; Idebenone; Mnesis. |
| Keywords | Coenzyme Q10, nervous centralis, ubiquinone, brain metabolism |
| Related products | Coenzyme Q10 Powder, Honokiol, Metformin (Hydrochloride), Pyrroloquinoline Quinone (PQQ) |
Description
Description
Idebenone Specifications
| | |
| --- | --- |
| Product Name | Idebenone |
| CAS Registry Number | 58186-27-9 |
| Molecular Formula | C19H30O5 |
| Molecular Weight | 338.44 g/mol |
| Appearance | Yellow-orange powder |
| Package | 1kg-25kg |
| Shelf life | 2years |
| Functions | Protect against cerebral ischemia and nootropic properties |
Idebenone Description
Idebenone is an analog of Coenzyme Q10. It is currently used clinically as a stimulant of brain metabolism. It is a ubiquinone derivative with protective effects against cerebral ischemia. This compound has neuroprotective and nootropic properties. It has an activation effect on the function of thread pull, improves brain function metabolism and brain dysfunction, and can increase the utilization rate of glucose in the brain and promote the generation of ATP; improve the metabolism of the neurotransmitter serotonin in the brain, has Strong anti-oxidation and free radical scavenging effect.
Idebenone is a synthetic analogue of ubiquinone (also known as Coenzyme Q10), a vital cell antioxidant and essential component of the Electron Transport Chain (ETC). It has been proposed that by interacting with the ETC, idebenone increases ATP production required for mitochondrial function, reduces free radicals, inhibits lipid peroxidation, and consequently protects the lipid membrane and mitochondria from oxidative damage.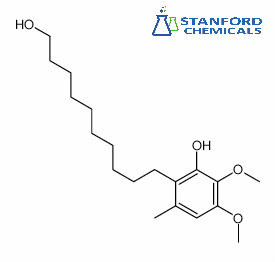 Idebenone Applications
Ingredients of drugs to treat Parkinson's disease, cardiovascular and cerebrovascular diseases.
Reference:
Barkworth, M.F., et al.: Arzneim.-Forsch., 35, 1704 (1985), Kobayashi, T., et al.: J. Pharmacobio-Dyn., 8, 448 (1985), Zs-Nagy, I., et al.: Arch. Gerontol. Geriatr., 11, 177 (1990),