040-000-323 Clindamycin Hydrochloride, CAS 21462-39-5
040-000-323 Clindamycin Hydrochloride, CAS 21462-39-5
Description
Description
Clindamycin Hydrochloride Specifications
| | |
| --- | --- |
| Product Name | Clindamycin Hydrochloride |
| CAS Registry Number | 214-62-39-5 |
| Molecular Formula | C18H33ClN2O5S · HCl |
| Molecular Weight | 461.44 g/mol |
| Purity | >99.9 % |
| Appearance | White powder |
| Package | 1kg-25kg |
| Shelf life | 2 years |
| Functions | Clindamycin hydrochloride has a strong antibacterial effect and is mainly used clinically for osteomyelitis, the infection caused by anaerobic bacteria, respiratory system infection, biliary tract infection, endocarditis, otitis media, skin and soft tissue infection, and sepsis. |
Clindamycin Hydrochloride Description
Clindamycin is a semi-synthetic, lincosamide antibiotic that is prepared from lincomycin. It inhibits bacterial protein synthesis by hydrogen bond interactions with the 23S rRNA component of the 50S ribosomal subunit thus inducing dissociation of the peptidyl-t-RNA complex. It has antibacterial activity against Gram-positive cocci and antiprotozoal activity against Toxoplasma.
Clindamycin is used to treat a wide variety of bacterial infections. It is an antibiotic that works by stopping the growth of bacteria.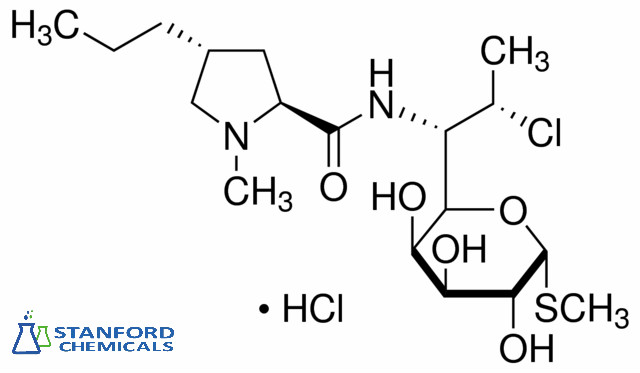 Clindamycin Hydrochloride Applications
Used in the production of drugs for the treatment of respiratory infections, biliary tract infections, endocarditis, otitis media, and other diseases.