040-000-326 Lincomycin Hydrochloride, CAS 859-18-7
040-000-326 Lincomycin Hydrochloride, CAS 859-18-7
Description
Description
Lincomycin Hydrochloride Specifications
| | |
| --- | --- |
| Product Name | Lincomycin Hydrochloride |
| CAS Registry Number | 859-18-7 |
| Molecular Formula | C18H34N2O6S · HCl |
| Molecular Weight | 443.00 g/mol |
| Purity | >93 % |
| Appearance | White powder |
| Package | 1kg-25kg |
| Shelf life | 2 years |
| Functions | Used to treat various infections caused by sensitive bacteria, such as pneumonia, meningitis, endocarditis, cellulitis, tonsillitis, erysipelas, boils, and urinary system infections |
Lincomycin Hydrochloride Description
Lincomycin hydrochloride is a narrow-spectrum antibiotic with a similar effect to erythromycin, and it has a good effect on Gram-positive cocci, especially anaerobic bacteria, Staphylococcus aureus, and pneumococcus. Its mechanism of action is similar to erythromycin and is a bacteriostatic agent. It mainly inhibits the synthesis of bacterial cell proteins and is mainly used clinically for various infections caused by sensitive bacteria.
It has been used in the treatment of staphylococcal, streptococcal, and Bacteroides fragilis infections.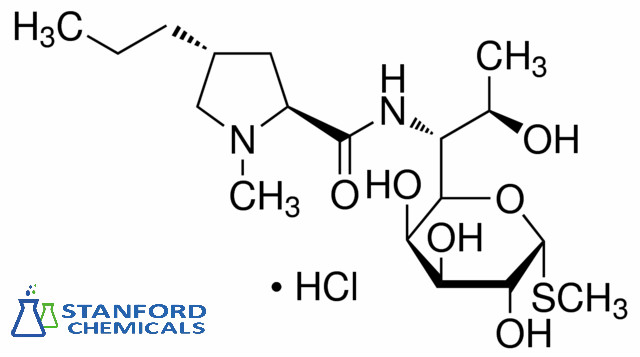 Lincomycin Hydrochloride Applications
It can be made into lincomycin tablets, capsules, injections, and other dosage forms, and can also be used to synthesize clindamycin derivatives.