Description
Description
Docetaxel Specifications
| | |
| --- | --- |
| Product Name | Docetaxel |
| CAS Registry Number | 114977-28-5 |
| Molecular Formula | C43H53NO14 |
| Molecular Weight | 807.55 g/mol |
| Purity | >98 % |
| Package | 1kg-25kg |
| Shelf life | 2 years |
| Functions | It can treat breast, lung, prostate, stomach, and head and neck cancer. |
Docetaxel Description
Docetaxel (docetaxel) has the same effect as paclitaxel (PTX). It is a M-cycle specific drug that promotes the polymerization of tubules into stable microtubules and inhibits their aggregation, thereby significantly reducing the number of tubules. And can destroy the microtube network structure. In vitro experiments show that it has a cytotoxic effect on a variety of mouse and human tumor cell lines, with a broader anti-tumor spectrum than PTX.
Docetaxel is a taxoid antineoplastic agent used in the treatment of various cancers, such as locally advanced or metastatic breast cancer, metastatic prostate cancer, gastric adenocarcinoma, and head and neck cancer.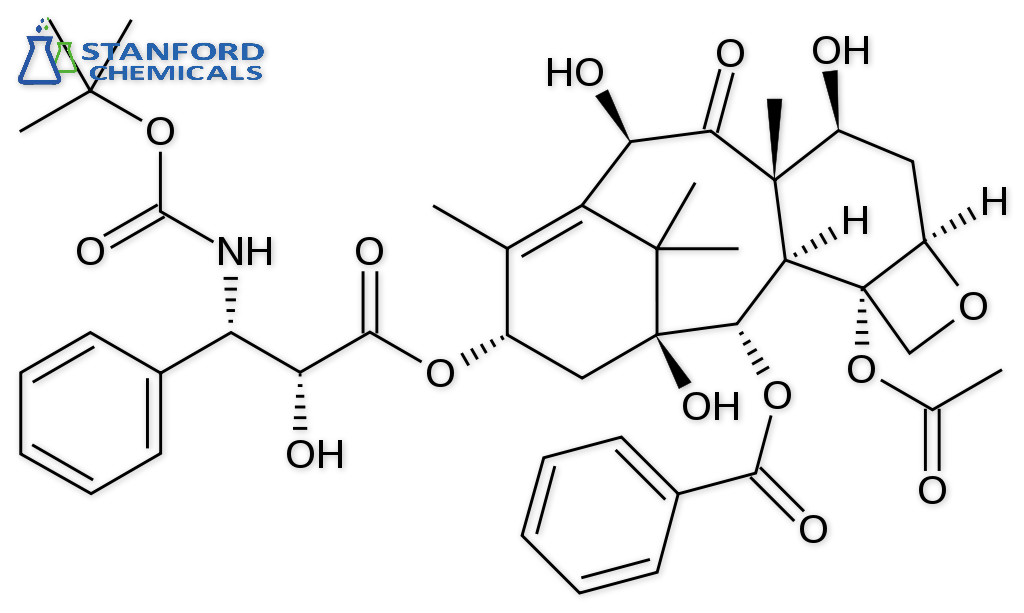 Docetaxel Applications
Pharmaceutical ingredients of anti-cancer drugs.
Reference:
Mahon, K.L., Henshall, S.M., Sutherland, R.L., et al. Pathways of chemotherapy resistance in castration-resistant prostate cancer. Endocrine-Related Cancer 18, R103-R123 (2011).
Bissery, M.C., Guenard, D., Gueritte-Voegelein, F., et al. Experimental antitumor activity of taxotere (RP 56976, NSC 628503), a taxol analogue. Cancer Research 51, 4845-4852 (1991).
Yao, X., Hosenpud, J., Chitambar, C.R., et al. A phase II study of concurrent docetaxel, epirubicin and cyclophospha-mide as a neoadjuvant chemotherapy regimen in patients with locally advanced breast cancer. Journal of Cancer 3, 145-151 (2012).