010-000-354 Oroxylin A, CAS 480-11-5
010-000-354 Oroxylin A, CAS 480-11-5
| | |
| --- | --- |
| Synonyms | 5,7-Dihydroxy-6-methoxy-2-phenyl-4H-1-benzopyran-4-one, 5,7-Dihydroxy-6-methoxyflavone;, 6-Methoxybaicalein. |
| Source | Oroxylum indicum, Scutellaria baicalensis, Scutellaria rehderiana and Gomphrena martiana |
| Keywords | Anti-tumor, neuroprotection, anti-inflammatory, anti-itch, anti-allergic |
| Related Products | Kojic Acid, Ellagic Acid, Rapamycin |
Description
Description
Oroxylin A Specifications
| | |
| --- | --- |
| Product Name | Oroxylin A |
| CAS Registry Number | 480-11-5 |
| Molecular Formula | C16H12O5 |
| Molecular Weight | 284.267 g/mol |
| Purity | 95% – 99% |
| Appearance | Pale yellow powder |
| Package | 1kg-25kg |
| Shelf life | 2 years |
| Solubility | Soluble in methyl alcohol |
| Functions | Anti-tumor, neuroprotection, anti-inflammatory, anti-birth, anti-itch, anti-allergic |
Oroxylin A Description
Oroxylin A is a flavonoid isolated from Scutellaria baicalensis, which is one of the most important medicinal herbs in traditional Korean/Chinese/Japanese medicine. Oroxylin A has been found to improve memory consolidation in mice by elevating brain-derived neurotrophic factor (BDNF) levels in the hippocampus.
Oroxylin A is an O-methylated flavone that comes from Scutellaria baicalensis and Scutellaria lateriflora plants as well as the Oroxylum indicum tree.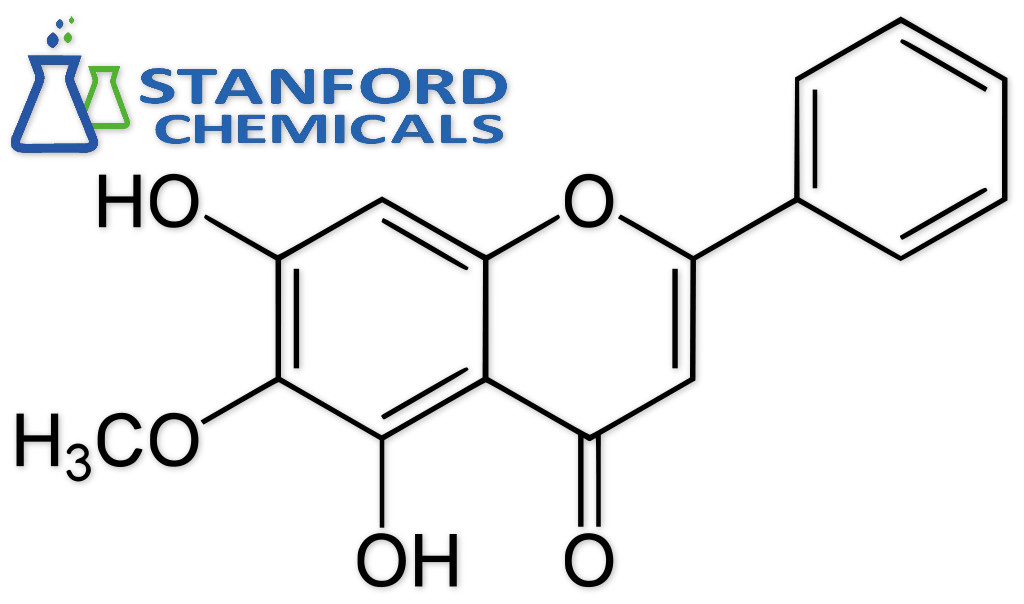 Oroxylin A Applications
Reference:
Yoon, Seo Young. Oroxylin A improves attention deficit hyperactivity disorder-like behaviors in the spontaneously hypertensive rat and inhibits the reuptake of dopamine in vitro". Archives of Pharmacal Research. 36 (1): 134–140.
Liao JF. Benzodiazepine binding site-interactive flavones from Scutellaria baicalensis root". Planta Med. 64 (6): 571–2.