050-000-282 Chlorogenic Acid, CAS 327-97-9
050-000-282 Chlorogenic Acid, CAS 327-97-9
| | |
| --- | --- |
| Synonyms | 1,4,5-Trihydroxycyclohexanecarboxylic acid 3-(3,4-dihydroxycinnamate), 3-(3,4-Dihydroxycinnamoyl)quinic acid |
| Source | Eucommia ulmoides |
| Keywords | Liver, anti-oxidation, blood glucose, anti-cancer |
| Related products | Monoammonium Glycyrrhizinate, Metformin (Hydrochloride), Silybum Marianum Extract |
Description
Description
Specifications of Chlorogenic Acid
| | |
| --- | --- |
| Product Name | Chlorogenic Acid |
| CAS Registry Number | 327-97-9 |
| Molecular Formula | C16H18O9 |
| Molecular Weight | 354.31 |
| Purity | 5-98 % |
| Appearance | White to slightly yellowish-beige powder |
| Melting point | 210 °C |
| Package | 1kg-25kg |
| Shelf life | 2 years |
| Functions | Protect liver, gallbladder, anti-oxidation, anti-bacteria, anti-cancer, |
Description of Chlorogenic Acid
Chlorogenic acid is an important intermediate in lignin biosynthesis. This compound, long known as an antioxidant, also slows the release of glucose into the bloodstream after a meal. The common sources of chlorogenic acid are Eucommia, coffee beans and honey suckle.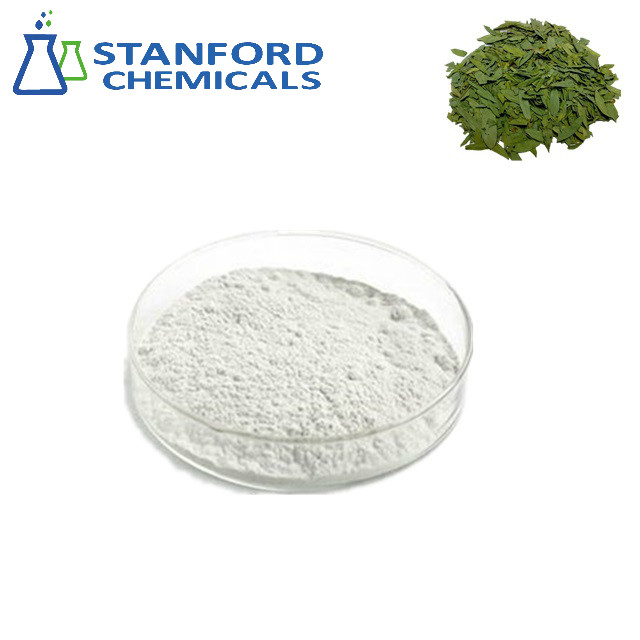 Applications of Chlorogenic Acid
It has broad antibacterial effect, advantageous bravery, hemostatic, increase white blood cell and antiviral effect, the effect of the blood clotting and bleeding time is shortened. It is used in the treatment of upper respiratory tract infection, anti-inflammatory and antipyretic, cool blood heat dissipation. Used as pharmaceutical raw materials and intermediates. clearing heat and removing toxicity, cold wind heat, broad-spectrum antimicrobial properties, having obvious inhibitory effect to hemolytic streptococcus, dysentery rod gas and salmonella typhi bacteria. Chlorogenic acid can also be used as a food additive in coffee products, chewing gum and mint. 
Reference:
Khang Wei Ong et. al. Biochemical pharmacology, 85(9), undefined (2013-2-19)
Margreet R Olthof et. al. The Journal of nutrition, 133(6), undefined (2003-5-29)
Aimée E van Dijk et. al. Diabetes care, 32(6), undefined (2009-3-28)