050-000-281 Swertiamarin, CAS 17388-39-5
050-000-281 Swertiamarin, CAS 17388-39-5
Description
Description
Specifications of Swertiamarin
| | |
| --- | --- |
| Product Name | Swertiamarin |
| CAS Registry Number | 17388-39-5 |
| Molecular Formula | C16H22O10 |
| Molecular Weight | 374.3 g/mol |
| Purity | 10-95 % |
| Appearance | Pale yellow powder |
| Package | 1kg-25kg |
| Shelf life | 2 years |
| Functions | anti-hyperglycemic, anti-hyperlipidemic, anti-diabetic activity, enhances β cell regeneration |
Description of Swertiamarin
Swertiamarin is an orally bioavailable secoiridoid glycoside that has been found in E. axillare and has diverse biological activities, including antioxidant, anti-inflammatory, antidiabetic, and hepatoprotective properties. Swertiamarin (50 μg/ml) inhibits nitric oxide (NO) production in IL-1β-stimulated fibroblast-like synoviocytes (FLSs) isolated from rat hindpaw.
Swertiamarin (25 μg/ml) inhibits oleate-induced lipid droplet and triglyceride accumulation in HepG2 cells. It decreases liver lipid accumulation, ballooning degeneration, and TNF-α and IL-6 levels in a mouse model of fructose-induced nonalcoholic fatty liver disease (NAFLD) when administered at a dose of 50 mg/kg per day. Swertiamarin (50 mg/kg per day) also decreases fasting blood glucose and serum cholesterol levels in a rat model of diabetes induced by streptozotocin.
Swertiamarin (Swertiamaroside) is a common secoiridoid found among the members of Gentianaceae with anti-inflammatory, anticancer, hypoglycemic, and hypolipidemic activities.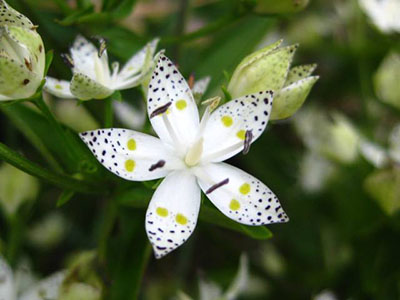 Applications of Swertiamarin
Laboratory research
Raw materials for hair regeneration products 
Reference:
Vaijanathappa, J., and Badami, S. Antiedematogenic and free radical scavenging activity of swertiamarin isolated from Enicostemma axillare. Planta Med. 75(1), 12-17 (2009).
Saravanan, S., Islam, V.I., Thirugnanasambantham, K., et al. Swertiamarin ameliorates inflammation and osteoclastogenesis intermediates in IL-1β induced rat fibroblast-like synoviocytes. Inflamm. Res. 63(6), 451-462 (2014).
Sonawane, R.D., Vishwakarma, S.L., Lakshmi, S., et al. Amelioration of STZ-induced type 1 diabetic nephropathy by aqueous extract of Enicostemma littorale Blume and swertiamarin in rats. Mol. Cell Biochem. 340(1-2), 1-6 (2010).
Patel, T.P., Rawal, K., Soni, S., et al. Swertiamarin ameliorates oleic acid induced lipid accumulation and oxidative stress by attenuating gluconeogenesis and lipogenesis in hepatic steatosis. Biomed. Pharmacother. 83, 785-791 (2016).
Yang, Y., Li, J., Wei, C., et al. Amelioration of nonalcoholic fatty liver disease by swertiamarin in fructose-fed mice. Phytomedicine 59, 152782 (2019).