| | |
| --- | --- |
| Synonym | Formononetol |
| Type | Leguminosae |
| Keywords | Osteoporosis, cancer, breast cancer, colon cancer, prostatic cancer |
Description
Description
Specifications of Formononetin
| | |
| --- | --- |
| Product Name | Formononetin |
| CAS Registry Number | 485-72-3 |
| Molecular Formula | C16H12O4 |
| Molecular Weight | 268.26 |
| Purity | ≥98% |
| Appearance | White powder |
| Shelf life | 2 years |
| Functions | Prevent cancer, relieve osteoporosis |
Description of Formononetin
Formononetin is an O-methylated isoflavone that can be found in many herbs such as red clover. It is usually used as a blood enhancer and to improve blood microcirculation in complementary and alternative medicine. It promotes endothelial repair and wound healing in a process involving the over-expression of Egr-1 transcription factor through the regulation of the ERK1/2 and p38 MAPK pathways.
Formononetin, present in soybean, Astragalus membranaceus, Pycnanthus angolensis, Sophora flavescens, and Trifolium pratense, has shown anti-inflammatory, anticancer, and antioxidant effects.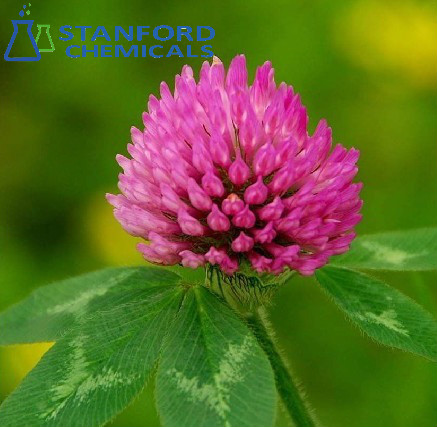 Applications of Formononetin
Laboratory research
Ingredient of drugs
Reference:
Medjakovic, S.; Jungbauer, A. (2008). "Red Clover Isoflavones Biochanin A and Formononetin are Potent Ligands of the Human Aryl Hydrocarbon Receptor". The Journal of Steroid Biochemistry and Molecular Biology. 108 (1–2): 171–177.
Li, Shang; Dang, Yuanye; Zhou, Xuelin; Huang, Bin; Huang, Xiaohui; Zhang, Zherui; Kwan, Yiu Wa; Chan, Shun Wan; Leung, George Pak Heng; Lee, Simon Ming Yuen; Hoi, Maggie Pui Man (2015). "Formononetin promotes angiogenesis through the estrogen receptor alpha-enhanced ROCK pathway". Scientific Reports. 5: 16815.
Submit your review

Submit

Cancel
Formononetin
Average rating:
1 reviews
Nov 4, 2019
by
Debra C.
on
Formononetin
Perfect product