Micro HA for Cosmetic Applications
Macromolecule active ingredients (or at least 500KD) are historically difficult or impossible to deliver topically through tissue structures with the limitation of traditional methods.
The topical delivery of large molecules through skin, hair, eyes, mucosal surfaces and bone is difficult using high molecular weight hyaluronic acid.
In the past, the most common form of hyaluronic acid is high molecular weight, usually, more than 1800 K Da.
The difference between regular, high-molecular hyaluronic acid (HA) and low-molecular-weight HA is that the low-molecular-weight HA has been split into smaller fragments.
Thereby, these smaller fragments can no longer form a gel with water like the large molecules, but they can penetrate the skin much easier and have actually a better anti-irritant and regenerating effect once absorbed by the skin.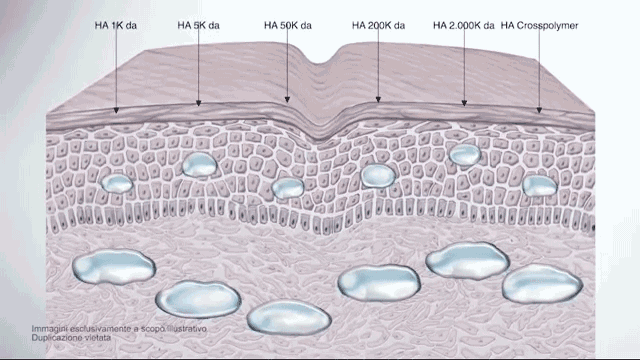 Now, after several years, our new product Micro-HA Super Active hyaluronic acid was used in Illustris molecule delivery technology to help facilitate a permeation process.
Micro HA is a kind of very low molecular weight HA (<5K Da). It is even lower than mini HA (<10K Da).
Micro Hyaluronic Acid helps plump skin to improve volume and suppleness. Due to its micro size, it penetrates deep into the skin to infuse moisture below the surface, providing skin replenishment and moisturization from the inside out.
Micro-HA Super Active Hyaluronic Acid is a new low molecular weight active ingredient produced by a unique enzymatic degradation technology with superb biological activity. Micro-HA can quickly penetrate the epidermis and the dermis to scavenge free radicals, reduce inflammation factor activity, repair damaged cells, protect the skin against inflammation and sensitivity caused by the various stimulus.
In the past, the traditional industry or traditional HA-related products are more suitable for adults. However, after several years, we have designed a brand new product of HA. It is named micro HA. Micro HA is a kind of very low molecular weight HA (<5K Da). It is even lower than mini HA (<10K Da). The main functions of Micro HA are recovery and super moisturizing the tissues. It can much more increase the protection of baby care from daily life.
One of the examples from our customers
One of our regular customers was focused on personal care products. In the past, they sell more products for adults, especially for women. However, after utilizing products Micro HA in their new products, they obtained a lot. It is not only can enrich their product sorts, but also expand the market sales for their company. Since the advanced specification of micro-HA, they can search the new products for baby care. Therefore, this is a win-win result, it is also good news for the HA market. We are both happy about this transaction.