| | |
| --- | --- |
| Category | Pharmaceutical raw materials |
| Synonym | (−)-Tetrahydrolipstatin, N-Formyl-L-leucine (1S)-1-(2S,3S)-3-hexyl-4-oxo-2-oxetanylmethyldodecyl ester, Ro-18-0647 |
| CAS No. | 96829-58-2 |
| Chemical Formula | C29H53NO5 |
| Molecular Weight | 495.73 |
| Appearance | White Powder |
| Package | Customized Package. |
| Packaging | DRUM, Plastic Container |
| Grade | Cosmetic grade |
| Assay | ≥98% |
Description
Description
Product Name: Orlistat
Synonyms: (-)-Tetrahydrolipstatin Orlipastat Orlipastatum [INN-Latin] Tetrahydrolipstatin, (2S)-1-[(2S,3S)-3-hexyl-4-oxooxetan-2-yl]tridecan-2-yl (2S)-2-formamido-4-methylpentanoate
CAS: 96829-58-2
MF: (C14H22NNaO11)n
Appearance: White powder
Standard: purity >99%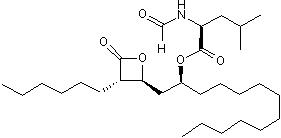 Orlistat Introduction:
Orlistat is used for the treatment of obesity. The amount of weight loss achieved with orlistat varies. In one-year clinical trials, between 35.5% and 54.8% of subjects achieved a 5% or greater decrease in body mass, although not all of this mass was necessarily fat. Between 16.4% and 24.8% achieved at least a 10% decrease in body mass.
After orlistat was stopped, a significant number of subjects regained weight—up to 35% of the weight they had lost. The incidence of type 2 diabetes in an obese population over four years is decreased with orlistat (6.2%) compared to placebo (9.0%). Long-term use of orlistat also leads to a modest reduction in blood pressure (mean reductions of 2.5 and 1.9 mmHg in systolic and diastolic blood pressure respectively).
Orlistat is used with an individualized low-calorie, low-fat diet and exercise program to help people lose weight. Prescription orlistat is used in overweight people who may also have high blood pressure, diabetes, high cholesterol, or heart disease. Orlistat is also used after weight loss to help people keep from gaining back that weight.
Orlistat Functions:
Orlistat combined with a low-calorie diet is suitable for the long-term treatment of obese and overweight patients, including those who have developed risk factors related to obesity. It has the effect of long-term weight control (reduces weight, maintains weight, and prevents rebound). It can also reduce the risk factors related to obesity and the incidence of other diseases related to obesity, including hypercholesterolemia and type 2 diabetes.
Biological Activity:
Hypolipemic pancreatic, gastric, and carboxylester lipase inhibitors. Exhibits no activity at phospholipase A2, liver esterase, trypsin, and chymotrypsin. Inhibits the thioesterase domain of fatty acid synthase, leading to cell cycle arrest at the G1/S boundary in vitro. Prevents the absorption of approximately one-third of fat from food and exhibits progastrokinetic, antiobesity, and antihypercholesterolemic activity in vivo.
Related products: Cilostazol, Nicotinamide mononucleotide, Acarbose