040-000-310 Abiraterone Acetate CAS 154229-18-2
040-000-310 Abiraterone Acetate CAS 154229-18-2
Description
Description
Abiraterone Acetate Specifications
| | |
| --- | --- |
| Product Name | Abiraterone Acetate |
| CAS Registry Number | 154229-18-2 |
| Molecular Formula | C26H33NO2 |
| Molecular Weight | 391.55 g/mol |
| Purity | >99.0 % |
| Appearance | White powder |
| Package | 1kg-25kg |
| Shelf life | 2 years |
| Functions | Treatment of mCSPC |
Abiraterone Acetate Description:
Abiraterone Acetate is a CYP17 inhibitor, suitable for use in combination with prednisone for the treatment of patients with metastatic castration-refractory prostate cancer who have previously received docetaxel-containing chemotherapy.
ZYTIGA (abiraterone acetate) is a prescription medicine that is used along with prednisone. ZYTIGA is used to treat men with prostate cancer that has spread to other parts of the body.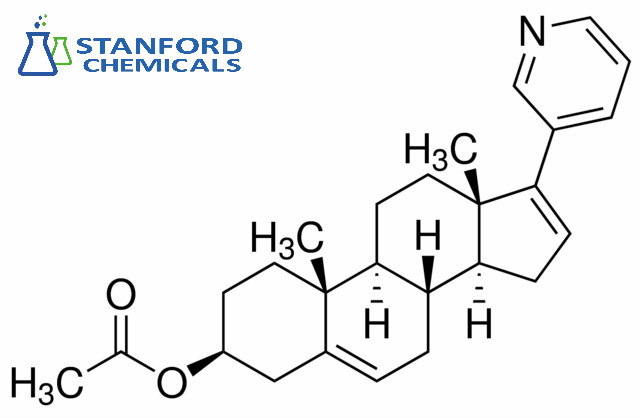 Abiraterone Acetate Applications:
Abiraterone Acetate is used in combination with prednisone, a corticosteroid, as a treatment for mCRPC (previously called hormone-resistant or hormone-refractory prostate cancer).
Reference:
O'Donnell, A., Judson, I., Dowsett, M., et al. Hormonal impact of the 17α-hydroxylase/C17,20-lyase inhibitor abiraterone acetate (CB7630) in patients with prostate cancer. British Journal of Cancer 90(12), 2317-2325 (2004).
Ryan, C.J., Smith, M.R., de Bono, J.S., et al. Abiraterone in metastatic prostate cancer without previous chemotherapy. New England Journal of Medicine 368(2), 138-148 (2013).
Potter, G.A., Barrie, S.E., Jarman, M., et al. Novel steroidal inhibitors of human cytochrome P45017α (17α-hydroxylase-C17,20-lyase): Potential agents for the treatment of prostatic cancer. Journal of Medicinal Chemistry 38(13), 2463-2471 (1995).