070-000-346 Mandelic Acid, CAS 90-64-2
070-000-346 Mandelic Acid, CAS 90-64-2
Description
Description
Mandelic Acid Specifications
| | |
| --- | --- |
| Product Name | Mandelic Acid |
| CAS Registry Number | 90-64-2 |
| Molecular Formula | C8H8O3 |
| Molecular Weight | 152.15 g/mol |
| Purity | >99.0% |
| Appearance | White powder |
| Package | 1kg-25kg |
| Shelf life | 2 years |
| Functions | Anti-aging, curing acne, and curing the keratinization of pores |
Mandelic Acid Description
Mandelic acid is an aromatic alpha hydroxy acid with the molecular formula C8H8O3. It is a white crystalline solid that is soluble in water and polar organic solvents. It has the effect of keratin anti-aging, curing acne, and curing the keratinization of pores. Mandelic acid has the effect of improving acne scars, improving pigmentation, and lightening fine lines.
Mandelic acid's powerful antibacterial properties team up with its gentle exfoliating, cell-turnover-activating abilities team up to defeat acne, dull skin, uneven texture, hyperpigmentation, and fine lines and wrinkles.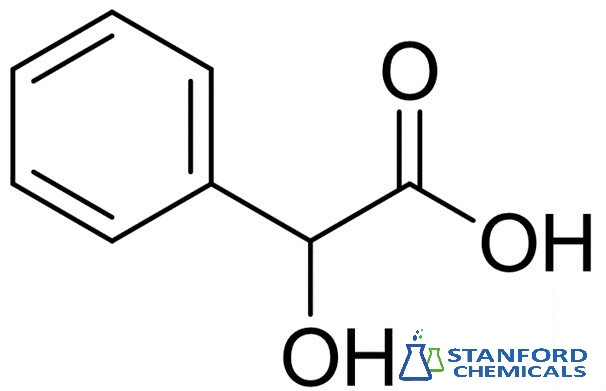 Mandelic Acid Applications
-Used as an oral antibiotic, and as a component of chemical face peels analogous to other alpha hydroxy acids.
Reference:
Taylor, MB. (1999). "Summary of mandelic acid for the improvement of skin conditions". Cosmetic Dermatology. 21: 26–28.
Engström K, Härkönen H, Kalliokoski P, Rantanen J. "Urinary mandelic acid concentration after occupational exposure to styrene and its use as a biological exposure test" Scand. J. Work Environ. Health. 1976, volume 2, pp. 21-6.