040-000-400 3-(4-Chlorobutyl)indole-5-carbonitrile
040-000-400 3-(4-Chlorobutyl)indole-5-carbonitrile
| | |
| --- | --- |
| Category | Pharmaceutical raw materials |
| Synonym | 3-(4-Chlorobutyl)-5-cyanoindole, 3-(4-Chlorbutyl)-1H-indol-5-carbonitril |
| CAS No. | 143612-79-7 |
| Chemical Formula | C13H13ClN2 |
| Molecular Weight | 232.71 |
| Appearance | White Powder |
| Package | Customized Package. |
| Grade | Medicine grade |
| Assay | >97% |
Description
Description
3-(4-Chlorobutyl)indole-5-carbonitrile Introduction
3-(4-Chlorobutyl)indole-5-carbonitrile is used to synthesize vilazodone, which is a medicine that cures depression.
Depression is a common mental illness. Its clinical symptoms are low mood, restless sleep, slow thinking, loss of interest, and loss of appetite. The cause of depression is not yet fully understood. It is generally believed that it is caused by two factors, psychological and biological (including neurotransmitter etiology and genetic etiology, etc.). The different pathogenesis of depression also determines the different treatment methods.
Generally speaking, it can be divided into two categories: drug therapy and non-drug therapy. Symptoms caused by psychological problems can be relieved by a variety of non-pharmacological methods such as physical therapy, behavioral therapy, and art therapy. Depression caused by neurotransmitter disorders or genetic factors needs to be treated with corresponding drugs.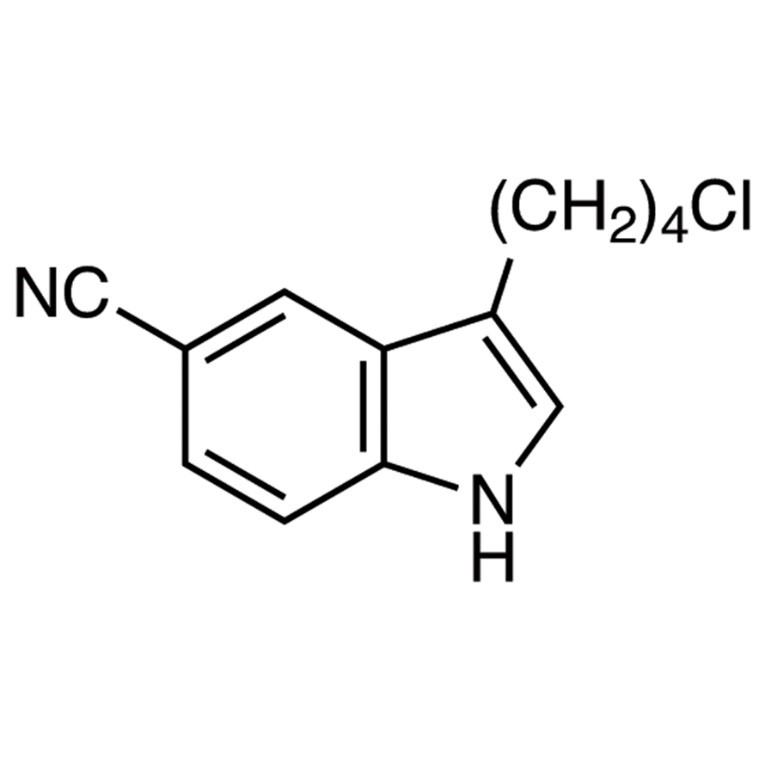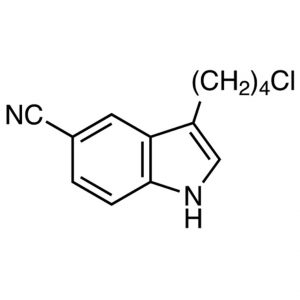 3-(4-Chlorobutyl)indole-5-carbonitrile Applications
3-(4-Chlorobutyl)-5-cyanoindole is a key intermediate in the synthesis of vilazodone. It is mainly used to synthesize vilazodone, such as 3-(4-chlorobutyl)-1H-indole.
3-(4-Chlorobutyl)indole-5-carbonitrile Specification
| | |
| --- | --- |
| Appearance | White to Almost white powder to crystal |
| Purity(GC) | min. 97.0 % |
| Melting point | 98.0 to 102.0 °C |
Properties
| | |
| --- | --- |
| Melting Point | 100 °C |
| Solubility (soluble in) | Dimethylformamide |
Related products: Borage Oil, 7,8-Dihydroxyflavone hydrate, Acetyl L-Carnitine