What is Ecdysterone?
Ecdysterone is a naturally occurring ecdysteroid hormone that controls the ecdysis and metamorphosis of arthropods.
Beta-Ecdysterone is a plant sterol used widely in bodybuilding and muscle building. Ecdysterone is an anabolic plant sterol as well as a non-androgenic substance.
Beta-Ecdysterone Powder also named hydroxyecdysone, is extracted from the root of Cyanotis Arachnoidea, appearance is light yellow to white crystal powder different from the purity.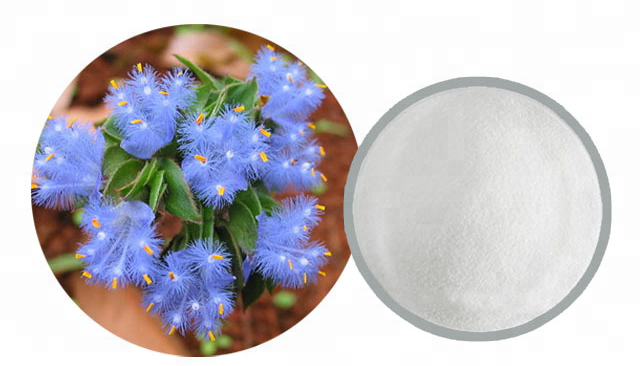 Beta-Ecdysterone Powder is significantly increased by hyaluronic acids, protein chains to assemble into stimulating muscle cells in the cytoplasm of protein synthesis, and the ability to grow into proteins and migration process. Ecdysterone extract not only is beneficial to the health, which helps to stability in the safety of cortisol damage cell, makes energy synthesis (ATP and muscle normalization procedure and improves liver function and peptide) quickly adapt to the organic physical environment and pressure changes.
Cyanotis arachnoidea extract (or 20-hydroxyecdysone) is an insect hormone that plays a role in controlling ecdysis, another name for the molting and metamorphosis process in insects and some crustaceans. It is also naturally found in a number of plants that are thought to produce ecdysterone to interfere with the life-cycle of their insect predators and protect them from attack. Ecdysterone is a member of the ecdysteroid family. These are fat-soluble steroid hormones produced by modification of cholesterol, and they bear a resemblance to human androgens like testosterone.
Cyanotis arachnoidea extract applications:
1. Applied in the pharmaceutical field, it can be used to improve body function.
2. Applied as health care products, it is used to enhance protein the amino acid to produce protein.
3. Applied as cosmetics, it can enhance the metabolism of cells and activation of the active substance, has a good skin whitening effect.
4. Applied in the breeding industry, it can reduce the fighting between individuals and improve the survival rate of breeding.