070-000-349 Tranexamic Acid, 1197-18-8
070-000-349 Tranexamic Acid, 1197-18-8
Description
Description
Tranexamic Acid Specifications
| | |
| --- | --- |
| Product Name | Tranexamic Acid |
| CAS Registry Number | 1197-18-8 |
| Molecular Formula | C8H15NO2 |
| Molecular Weight | 157.2 g/mol |
| Purity | >99 % |
| Appearance | White powder |
| Package | 1kg-25kg |
| Shelf life | 2 years |
| Functions | Inhibit the activity of melanocytes, prevent excessive blood loss from major trauma, postpartum bleeding, surgery, tooth removal, nosebleeds, and heavy menstruation |
Tranexamic Acid Description
Tranexamic acid is a synthetic amino acid with hemostatic and anti-inflammatory pharmacological effects. It can inhibit the activity of melanocytes, prevent and improve skin pigmentation, and thus have a certain cosmetic effect.
Tranexamic acid (sometimes shortened to txa) is a medicine that controls bleeding. It helps your blood clot and is used for nosebleeds and heavy periods. If you're having a tooth taken out, using tranexamic acid mouthwash can help stop bleeding.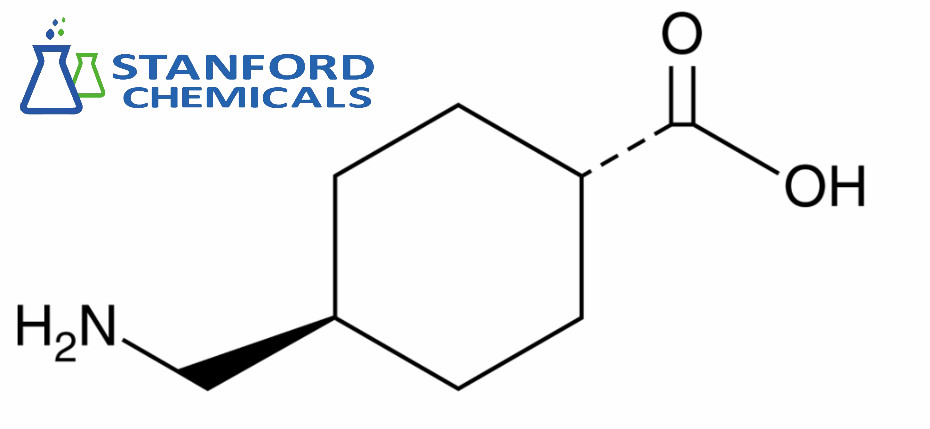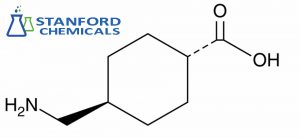 Tranexamic Acid Applications
Used in the whitening skincare product
Laboratory research
Reference:
Joshi, N., Kopec, A.K., Towery, K., et al. The antifibrinolytic drug tranexamic acid reduces liver injury and fibrosis in a mouse model of chronic bile duct injury. J. Pharmacol. Exp. Ther. 349(3), 383-392 (2014).
Boström, J., Grant, J.A., Fjellström, O., et al. Potent fibrinolysis inhibitor discovered by shape and electrostatic complementarity to the drug tranexamic acid. J. Med. Chem. 56(8), 3273-3280 (2013).