Does DHM (Dihydromyricetin) Actually Reduce Hangovers?
1.   Let's talk about dihydromyricetin!
Dihydromyricetin (DHM, or Ampelopsin) is a herbal hangover treatment. It is a special type of flavonoid extracted from the oriental raisin trees. Dihydromyricetin has been used as traditional medicine for alcohol-related diseases in China, Japan, and other parts of Asia, and it received popularity in the West recently.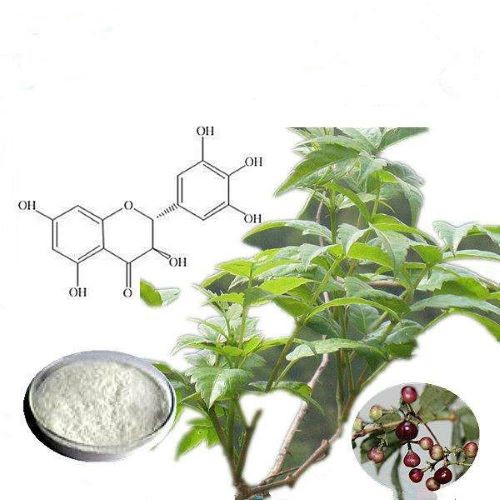 Dihydromyricetin stands out for its anti-alcohol effect. It could relieve hangover symptoms by promoting alcohol metabolism and enhancing the liver. DHM also has potential effects on alcohol addiction and other alcohol-related illnesses. Dihydromyricetin has anti-oxidation, anti-inflammation, and anti-tumor effects as well. Let's discuss the strong anti-alcohol effect of this natural vine tea extract in detail.
Alcohol-related diseases have dogged us for years. According to World Health Organization, 5.1% of the global burden of disease and injury is attributable to alcohol [1]. There are 88, 000 alcohol-related deaths in the U.S. and 3 million deaths around the world every year [2]. Not to mention, drunkenness could trigger unpleasant feelings including headache, nausea, vomiting, anxiety, clumsiness, and disordered speech.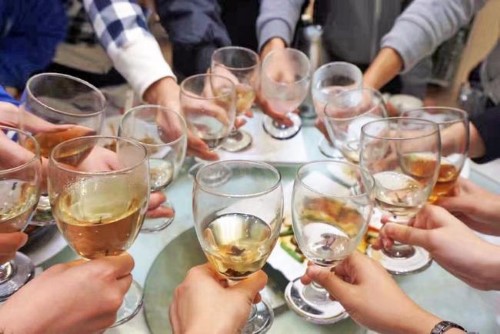 Thanks to its anti-alcohol effect and hepatoprotective feature, dihydromyricetin can reduce these symptoms in the following ways:
Dihydromyricetin enhances the performance of two alcohol-eating enzymes, so the alcohol intoxication level is reduced more quickly and efficiently.
Excessive consumption of alcohol leads to an excessive amount of ethanol and acetaldehyde, which increase the burden on livers and accumulate toxic byproducts. Two enzymes, ADH and ALDH, help your body to break down them. DHM helps produce more ADH and ALDH and increases their activities, so alcohol inside would be reduced faster.
Potential liver-related damage can be avoided because dihydromyricetin eases the burden of the liver and reduces toxic products in the liver.
For one thing, DHM reduces the burden on the liver by breaking down ethanol and acetaldehyde faster. For another, DHM reduces the fat accumulation and inflammation elements in the liver. Fat increases the possibility of liver diseases such as cirrhosis. Inflammation factors like cytokines bring about cellular damage to the liver and other organs. Such damage would be avoided due to DHM.
Curing alcohol withdrawal symptoms
There is a large possibility that DHM helps to cure alcohol addiction and withdrawal diseases like anxiety, tolerance, and seizures.
3.   Is dihydromyricetin safe?
Dihydromyricetin is quite safe to take. First, it has been used as a natural hangover treatment for over 500 years in Asia. There is no side effect report in academic research on animals and human beings since DHM has been applied to reduce hangovers. Additionally, you could find thousands of positive reviews of DHM-contained hangover supplements. However, please use DHM properly and drink alcohol wisely.
4.   How do you use dihydromyricetin powders?
Based on current research on animals, the recommended dosage of dihydromyricetin range is 80-1200mg, and the best dosage of DHM is around 300mg. However, healthier drinking habits work much better. Please drink more water and have something to eat before dining out.
The best time to use dihydromyricetin varies. If you use DHM as prevention, it is recommended to take the herbal supplement 30 minutes before you drink alcohol. If you take it to reduce hangovers, it is always the best time. DHM can do better work in your sleep.
5.   Conclusion
The article above offers a detailed discussion about the effect, usage, and safety of dihydromyricetin. Hope you can have a better understanding of DHM and its effect on drunkenness. Stanford Chemicals is a leading supplier of the most effective hangover treatment. DHM products are stored in cool and dry places, and they are protected from direct sunlight and heat. The specifications of our products are listed as follows.
Table 1 Dihydromyricetin Specifications
| | |
| --- | --- |
| Product Name | Dihydromyricetin |
| CAS Registry Number | 050-000-001 |
| Molecular Formula | C15H12o8 |
| Molecular Weight | 320.25 |
| Purity | 98%HPLC |
| Package | 1 kg/Bag |
| Storage | In sealed, cool, and dry condition |
| Functions | Anti-microbic, anti-oxidation, reduce blood glucose, liver protection |
| Shelf life | 2 years |
Furthering Reading: Everything You Need to Know About Dihydromyricetin
Reference:
[1] World Health Organization (2022, May 9). Alcohol. Retrieved January 16, 2023, from https://www.who.int/news-room/fact-sheets/detail/alcohol
[2] World Health Organization. Global Status Report on Alcohol and Health. 2014. Geneva, Switzerland: World Health Organization; 2014.